England v Ukraine: War reminders motivate underdogs ahead of Wembley clash

London
CNN
—

It may be thousands of miles from the front line, but Ukraine's football team is never far from the horrors of war.
As the squad gathered in the leafy suburbs of London ahead of their Euro 2024 qualifier against England, Russian forces continue to bombard Ukraine – with deadly missile strikes across the country this week.
That's why, despite the comforts of their luxury hotel, the spirits of the team are very close to their friends and family back home as they prepare for Sunday's game.
Oleksandr Glyvynskyy, the Ukrainian team's media representative, said many team members had an app on their phones that alerted them when there was an anti-aircraft siren in their homes.
Others start each day by scouring social media to check if there were any Russian attacks the day before.
They do this to make sure their loved ones are safe, but it also reminds them of how perilous the situation is.
"We are struggling inside because we know people are dying every day," Glyvynskyy, who has family in Kyiv, told CNN Sport from the team hotel.
"Last night I woke up twice because I had this air raid program on my phone.
"We understand the situation. It's not easy, but what can you do? Until we get our victory, we have to live with it.
It's far from perfect preparation for a game against a team ranked fifth in the world and some of the best players on the planet.
England reached the quarter-finals of the World Cup last year and beat Ukraine 4-0 en route to the European Championship final in 2021.
But despite the odds against them, the Ukrainian players, who narrowly missed out on a place at Qatar 2022, still have hope.
After all, it is hope that has lifted the country's spirits since the full-scale invasion began on February 24, 2022.
Since then, the team has learned to cope with its difficult conditions and tried to adapt its preparation for matches.
Without wanting to put undue pressure on the players, the technical staff are trying to channel the anxiety of returning home to the pitch.
"This game at Wembley will be first and foremost for our warriors, for our defenders, who are protecting Ukraine by fighting the mortal enemy," Ukraine interim coach Ruslan Rotan said on Wednesday.
"A positive outcome at Wembley will give hope and put smiles on people's faces and bring much needed positive emotions to the people of Ukraine."
The squad arrived in London on Monday to train at Premier League club Brentford's facilities ahead of their first qualifying match of the Euro 2024 campaign.
Brentford, who faced their guests in a warm-up game on Thursday, have seen increased interest since the arrival of the Ukrainian side.
Throughout the week, a handful of Ukrainian supporters peeked through the fences to catch a glimpse of the team training, while supporters gathered outside his nearby hotel in west London .
As one Brentford ground staff member told CNN: "This is not a normal national team."
Although it will be the opposing team on Sunday, the atmosphere promises to be electric inside Wembley, which is expecting more than 4,000 Ukrainian fans.
The Football Association of England and Wembley Stadium invited over 1,000 Ukrainian refugees and the families who sponsored them as special guests for the match.
"Football is united in its support for Ukraine and its condemnation of the invasion by Russian forces," Wembley Stadium manager Liam Boylan said in a statement.
"The invitation to Wembley Stadium is a reaffirmation of our solidarity with the Ukrainian fans currently living here in the UK, and a thank you to all Britons who have opened their homes to help them."
It's a move interim coach Rotan has welcomed, but he promises the niceties will end once the referee blows his whistle.
"The atmosphere of the match will be friendly, but it will be a football pitch battle," he added.
For many players, it's been a logistical battle to even get to training camp in London.
Now that the Ukrainian Premier League has resumed, many domestic players have returned to the safer western parts of the country.
However, with no airline flying directly from Ukraine, it took some players nearly 24 hours to arrive in the UK.
Two groups of players traveled by train or bus to Rzeszow, a Polish town on the Ukrainian border, before flying to London where they were joined by teammates who play elsewhere in Europe.
While the Ukrainian FA has become an expert problem solver over the past year, it's a tiring process from which everyone involved is ready to move on.
But despite all the obstacles in their path, the players are confident they can pull off a surprise result on Sunday.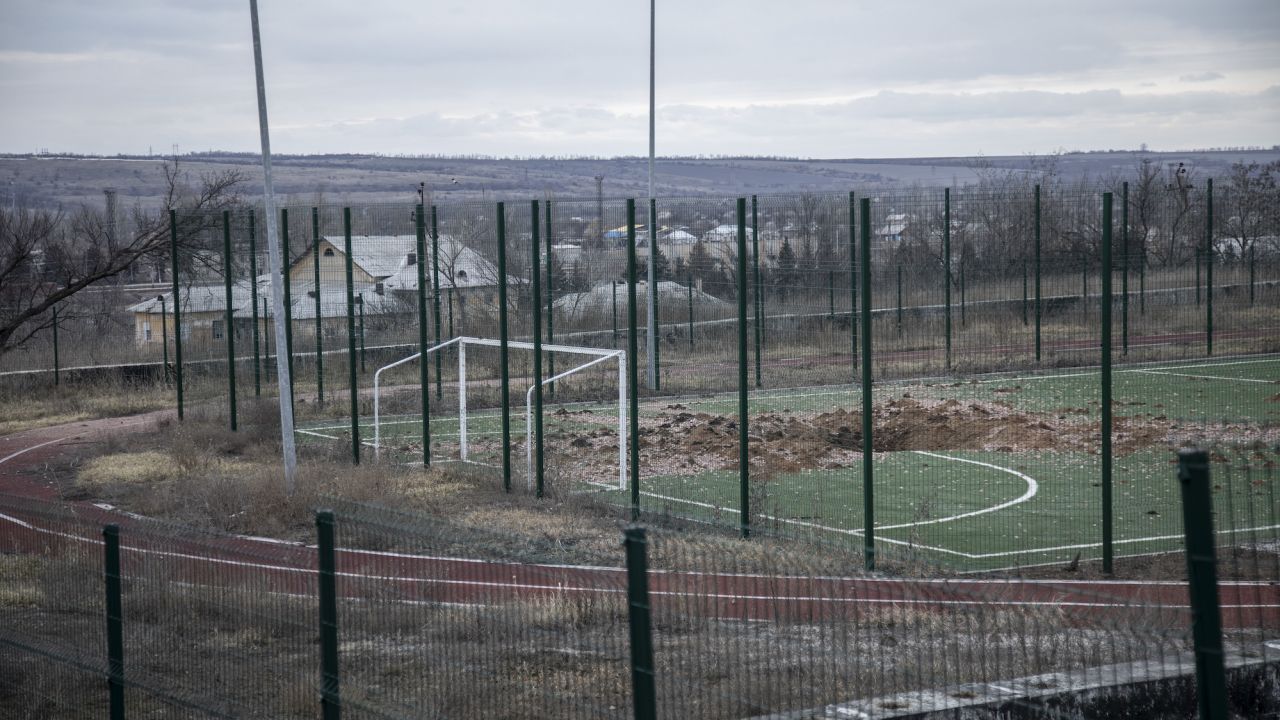 "It will be a nice game, a good test to see what level we are at," Ukrainian midfielder Ruslan Malinovskyi told CNN Sport on Friday from the team hotel.
"Everyone is motivated and it's a chance to show who we are. We have to take the pressure off and play our football.
Although there was no obvious end to the fighting, everyone CNN spoke to about the Ukrainian team hoped that the injuries would slowly start to heal over the overtime and that things would one day return to normal. normal.
Until then, this team is focused on providing their countrymen with 90 minutes of respite amid the gloom of war.
On Sunday they have the opportunity to do so at a stadium dubbed the 'home of football' – a highlight for a country still under attack.
"Now we have made it through the winter. With spring, your hope increases," Glyvynskyy added.
"We are tired of war. We want to live our life in a peaceful Ukraine, but the guys will go out to Wembley, in a dream historical place.
"Everyone understands that England are a very, very strong team. It won't be easy, but when you look at football, everyone believes in miracles."

cnn
Not all news on the site expresses the point of view of the site, but we transmit this news automatically and translate it through programmatic technology on the site and not from a human editor.