Dominic Raab said Russia's behavior "must change" in order to improve relations with the UK ahead of talks between G7 foreign ministers.
The Foreign Minister held a joint press conference with US Secretary of State Antony Blinken in Downing Street on Monday.
Among the topics discussed were sanctions against Russian citizens, climate change and President Joe Biden's decision to withdraw US troops from Afghanistan later this year.
Mr Raab said there was a growing demand for "like-minded countries" with like-minded values, such as G7 countries and guests, to work together in the face of hostile states like Russia and China.
Ahead of the first G7 foreign ministers meeting in more than two years, Raab said London and Washington stood "side by side" on a range of issues.
Mr Blinken said the United States had "no closer ally, no closer partner" than the United Kingdom.
Russia
Asked by a reporter about the possibility of including Russia in G7 meetings, even informally, Raab said the door to good diplomatic relations was "still open", but Russia's behavior had to change .
He said: "What needs to change is the behavior of Russia, as a P5 (permanent) member of the Security Council, against fundamental norms of international law.
Whether it was the handling of the edge and the noise of the saber on the border with Ukraine, whether it was cyber attacks and disinformation or even the poisoning of Alexei Navalny which was not just a violation human rights but the use of chemical weapons on Russian soil.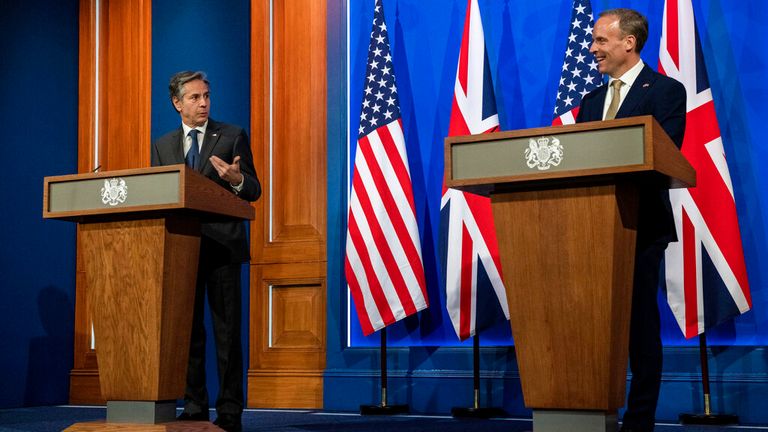 "So the opportunity for a better relationship with Russia is there, we would welcome it, but it depends on behavior and actions."
Mr Blinken added that the United States also wants a more stable relationship with Russia – but that will depend on how aggressively the Kremlin decides to act.
It precedes a meeting scheduled between Russian leader Vladimir Putin and US President Joe Biden next month.
He said: "President Biden has been very clear for a long time, including before he became president, that if Russia chooses to act recklessly or aggressively, we will respond.
"But we are not trying to degenerate: we would rather have a more stable and predictable relationship. What if Russia
is going in that direction, so are we. "
China
Mr Blinken said the West is not trying to "contain" or "contain China".
"What we are trying to do is maintain the rules-based international order in which our countries have invested so much for so many decades," he said.
"And when a country – China or whatever – takes action that defies or undermines or seeks to erode this rules-based order and does not live up to the commitments they made to that order, we will stand up and stand up for it. order. "
Mr Raab said: "I think it is fair to say that we agree on the need to stand up for our values, forcing Beijing to live up to the commitments they have made, whether in relation to Hong Kong as part of the joint declaration or more commitments, while at the same time finding constructive ways to work with China in a meaningful and positive manner. "
He added: "I think on global issues like climate change, we want to see China take over and play its full role."
Special relationship between USA and UK
Mr Blinken told the press conference that the special relationship between the United States and the United Kingdom is "close to the hearts of the American people".
He said: "We are connected. It is often said but it is always important to reaffirm it. We are bound by ties of friendship, family, history, shared values ​​and shared sacrifice.
"We have been reminded of this in recent weeks as we prepare to withdraw our forces from Afghanistan.
"We have been side by side for almost 20 years, sharing a mission and supporting each other. We will never forget it.
"The United States has no closer ally, no closer partner than the United Kingdom, and I am very happy to have the opportunity to repeat it here today," he said. he continued.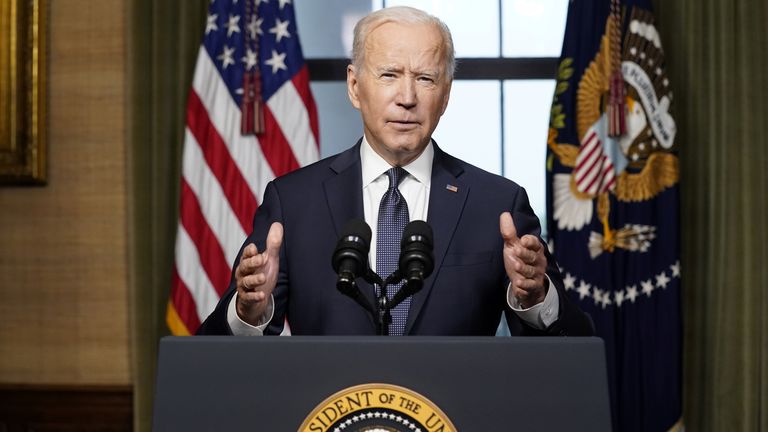 He added that President Biden is "very anxious" to be in the UK for the G7.
Aid cuts
On Sunday, Mr Raab insisted that the reduction in UK foreign aid spending was "necessary" because of the "seismic impact of the pandemic on the UK economy".
Speaking at Monday's press conference, he said it had been a "difficult decision" but that the UK still has the potential "to be an even greater force for good in the world".
He said: "Even after the cuts we had to make due to the pressing situation of COVID, the biggest contraction in our economy in 300 years, double the budget deficit we faced after the financial crash, we are still investing £ 10 billion in.
"As a proportion of GDP, it remains the third largest donor to the G7. Doubling our international contribution to climate finance, one of the largest bilateral humanitarian donors, the largest donor to GAVI."
He added that although it was a "difficult decision", he believes it "shows the possibility for us to be an even greater force for good in the world."
Nazanin Zaghari-Ratcliffe
Mr Raab said reports from Iran that Britain is paying a debt of £ 400million to secure the release of Nazanin Zaghari-Ratcliffe are "not yet accurate".
The aid worker has just been sentenced to an additional year in prison after serving a five-year sentence in Iran.
"It is the responsibility of Iran to unconditionally release those who are arbitrarily and, in our opinion, illegally detained, and the
the reports, I fear, are not yet accurate with regard to the suggestion of his imminent release, "he said at the press conference.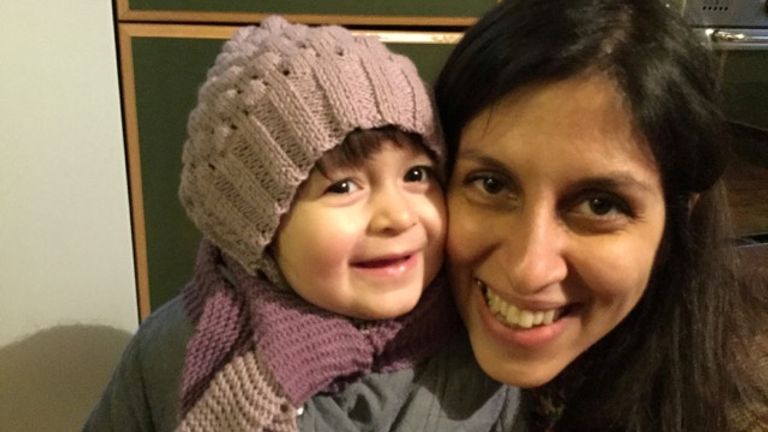 Weather
Mr Raab praised Joe Biden's administration for its "very welcome measures" on climate change which had created "momentum".
He said: "I think it's fair to say that the Biden administration is barely 100 days old, but has already taken a lot of bold and very welcome action on issues like climate change, global health. and human rights.
"And it has really created momentum in the effort to tackle these pressing global issues."
He also said that "we must work with China" on global issues such as climate change.
Myanmar
Mr Raab said the UK government wanted to see "an end to the violence" by Myanmar.
He said: "We want to see the military regime return to democracy and the electoral mandate that the government should have to represent the people of Myanmar."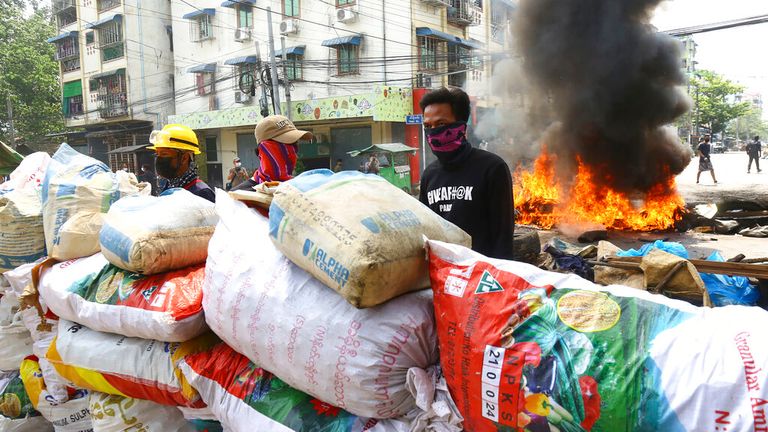 He added that the UK will "continue" its diplomatic and sanctions efforts to bring about "change for the better" in the country.
"We want to see the end of the violence, we want to see the military regime return to democracy and the electoral mandate that the government should have, representing the people of Myanmar," he said.
"We have been clear, not only in our targeted sanctions, but also in our broader measures we are taking to prevent UK companies from doing business with conglomerates or Tatmadaw-controlled companies. [Myanmar armed forces], that we're going to apply pressure this way. "
Mr Blinken said it was "vital" that the violence in the country cease and that the prisoners be released so that Myanmar can "return to the path of democracy".
Afghanistan
The withdrawal of troops from Afghanistan was also part of the discussion, with Mr Raab saying the UK had received "good consultation" from the US on its decision to withdraw its troops from the country – a process which began this weekend.
He said: "On Afghanistan, to be clear from the UK perspective, we don't feel ignored by the US partners.
"We had very good consultations on this and we continued, we discussed it today."
He continued: "We certainly see that the priority is to protect our troops between now and September, while ensuring to preserve the capacity to fight terrorism, the hard-won gains in Afghanistan are not lost.
"And also, ultimately, promoting dialogue and a peace process that benefits all Afghans and leaves Afghanistan as stable as possible, as inclusive as possible."
Mr Blinken added: "As we worked on President Biden's decision, we spent a lot of time consulting very actively with our NATO partners and NATO allies."