Does Ethereum have a supply cap? • Benzinga
Ethereum, next to Bitcoin, is what most investors would consider the top picks of the cryptocurrency space, especially at the point where Ethereum and Bitcoin are above all other cryptocurrencies ( stablecoins included), both in terms of market capitalization and recognition.
Of these two top-tier tokens, Ethereum is generally considered to have the most upward mobility and is perceived to have more development potential from an innovation perspective. It's hard to argue against this, especially when considering the depth and breadth of the suite of changes coming to the Ethereum network.
With rampant inflation in the fiat world, traditional monetary policy has shown how important controlling money printers can be. In this context, one wonders how this principle applies to Ethereum's tokenomic policy in relation to Bitcoin's well-known supply cap of 21 million Bitcoins.
Does Ethereum have a cap?
In short, no. Ethereum has no limit on the total number of tokens that can exist at any given time. Annual issuance rates have steadily declined over time in the same way as Bitcoin, so in practice inflation is not a concern in the same sense as it might be for fiat currencies.
The dates in the graph provided by Ethhub above use an older timeline estimate based on the merger that happened in late 2021, so shifting the dates from 2020 by about 6 months gives more accurate predictions.
How many Ethereum tokens are there?
The question of how much Ether exists is surprisingly nuanced. Of course, total issuance is a pretty simple number (around 120,173,610 Ether tokens exist at the time of writing), but that number is pretty one-dimensional. This is because this figure does not fully capture or track the total number of liquid or tradable ETH at any given time.
ETH in DeFi
Much of the gap between total supply and circulating ETH comes from how Ether can be staked with validators (in preparation for the Ethereum merger) for rewards (in a roughly similar sense to savings protocols where you can stake altcoins and stablecoins for interest), which usually requires a lockup period. The same is true for many decentralized finance (DeFi) protocols, which is why the total value locked (TVL) of Ether in DeFi is a relevant number in determining how much Ether is currently liquid and actively circulating.
Percentage of Ether held on exchanges
Likewise, the Ether (and other tokens) that centralized exchanges (CEX) control when people hold tokens in CEX accounts is a significant portion of total issuance. An increase in exchange balances may indicate that investors are looking for liquidity, as most investors transfer their crypto to an exchange to sell or trade their assets.
Source: Glassnode
Ether in circulation
Removing these other categories of ether gives a rough approximation of the circulating supply of ether, although even this action does not distinguish between lost ether and ether held long term. Note the broadly linear growth trend until August 2021, when Ether began to burn, as well as the flattening following the London Fork of the Ethereum network (early August 2021), which introduced the burning mechanism of Ether.
Is Ethereum deflationary?
Looking at the projected issue rate chart above, you can see that Ether currently has a positive net issue rate and is not technically deflationary, even though over 1.3 million Ether has been burned since the London Hard Fork in August, where EIP-1559 introduced burning to the Ethereum ecosystem. An important part of the next Ethereum merger is a drastic reduction in the annual emission rate (below 1%), so it is likely that Ethereum will end up deflationary after that.
Bitcoin supply versus Ethereum supply
While Bitcoin has a strictly defined supply cap of 21 million tokens, the increasing difficulty and exponentially decreasing reward of each block means that the last of those 21 million tokens should not be mined until 2140, which means that Ethereum's issuance is surprisingly similar to Bitcoin's despite lacking a strict supply cap.
Another comparative aspect to note between the two is Bitcoin's status as the first major cryptocurrency, which consequently meant that many early adopters lost keys, wallets and hard drives containing quantities of Bitcoin. while the same situation seems to be less common for Ethereum as the early adopters of Ethereum had a better picture of the value of the space compared to those of Bitcoin. Similarly, many Silk Road operators have dormant wallets containing large amounts of Bitcoin that gradually re-enter the market as their owners complete their prison sentences.
How to Invest in Ethereum
To enter the world of blockchain, consumers must exchange fiat currencies (like the US dollar) to buy cryptocurrencies, much like you might buy foreign currency before traveling to another country. These exchanges are most often facilitated by CEXs, some of which include eToro, Gemini and Coinbase Global Inc. (NASDAQ: CURRENCY). Due to its immense popularity compared to other options in the cryptocurrency space, Ether can be bought and sold in any CEX and has trading pairs with any cryptocurrency or imaginable fiat currency.
Individuals typically use tools called wallets to securely store their Ether and other digital assets. These wallets are associated with a unique Ethereum address to and from which Ether transactions are sent. The most popular example of an always-on hot wallet for the Ethereum network is MetaMask, which offers browser extensions for most major browsers. Browsers like Brave and Opera also offer native wallets.
To start
securely through the eToro website
Disclosure: eToro USA LLC; Investments are subject to market risk, including possible loss of principal.

Exam in 1 minute
eToro, headquartered in Cyprus, England and Israel, has been providing forex products and other CFD derivatives to retail clients since 2007. A major strength of eToro is its social trading operations, including OpenBook, which allows new customers to copy the best performance of the platform. Its social trading features are top-notch, but eToro loses points due to its lack of tradable currency pairs and its disappointing research and customer service features.
Best for
US-Based Cryptocurrency Traders
Investors looking to CopyTrade with other traders
Simplified user interface
Benefits
Several major cryptocurrencies and altcoins
Extensive network of social trading features
Large customer base for new traders to emulate
Exam in 1 minute
Gemini is a cryptocurrency exchange and custodian that offers investors access to over 100 coins and tokens. Founded in the United States, Gemini is expanding globally, particularly in Europe and Asia. The offerings include both major cryptocurrency projects like Bitcoin and Ethereum, and smaller altcoins like Orchid and 0x.
Gemini is one of the only brokers that offers multiple platform options depending on skill level. New investors will love Gemini's streamlined mobile and web app interface, while advanced investors may appreciate all the tools that ActiveTrader comes with.
In addition to a host of platform choices, Gemini users also have access to insured hot wallets to store tokens without worrying about digital asset theft. Learn more about what Gemini can do for you in our review.
Best for
New investors looking for a simple mobile and web app
Day traders looking to use technical analysis tools
Users looking for a one-stop-shop to buy, sell, and store all their cryptos
Benefits
Easy and fast registrations – can start in as little as 5 minutes
Multitude of platforms to accommodate traders of all levels
Hot wallets include insurance to protect against theft and hacking attempts
The inconvenients
Charges both commission and convenience fees for users who buy and sell through the desktop or mobile app
What will be the maximum Ethereum supply?
Circulating Power (note the logarithmic trend):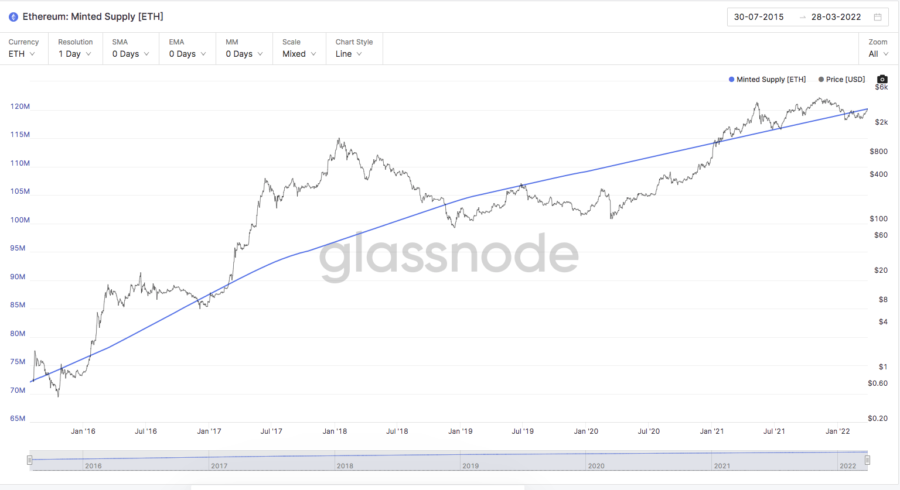 Recall from earlier that there is no clearly defined maximum Ethereum supply, and that Ether will become more deflationary after the Ethereum meltdown. As such, the supply at the time of the merger will likely be very close to Ethereum's stable supply. Assuming the merger takes place in the second quarter of 2022, it would be reasonable to expect a stable circulating supply of between 120 and 125 million tokens.
FAQs
How many Ether tokens are there?
Currently, around 120 million Ether tokens exist. However, this number does not take into account how TVL in DeFi, CEX holdings or lost ETH affect this supply.
When will the merger (Ethereum 2.0) be launched?
The wave of Ethereum upgrades called Merge (and formerly known as Ethereum 2.0) is expected to launch on the Ethereum mainnet in Q2 2022, barring any bugs or security risks found in testing so far.

cnbctv18-forexlive-benzinga
Not all news on the site expresses the point of view of the site, but we transmit this news automatically and translate it through programmatic technology on the site and not from a human editor.