COVID-19 helped give Thailand's Maya Bay a much-needed break from tourists: NPR
Leonardo DiCaprio's movie The beach which came out in 2000 about a fictional island utopia hidden from the outside world helped make Maya Bay in Thailand hugely popular.
Too popular, it turned out.
At the time of my visit eight years later, Maya Bay was still undeniably beautiful, but also undeniably overrun with tourists and the distinctive long-tail boats that brought them – belching smoke, churning up sediment and dragging their anchors through the coral. Passengers jumped over the side to wade or swim to shore, smearing the water with sunscreen and trash.
Park ranger Suthep Chaikao says that in 2018 things were even worse – with the once pristine bay, the crown jewel of Hat Noppharat Thara-Mu Ko Phi Phi National Park, welcoming more than 5,000 visitors a day.
"At the time, I woke up at 5 a.m. and there were already boats in the bay," he says. "The sun hadn't even risen yet and they were already there. Back then, they also didn't have a proper opening or closing time, so tourists could come whenever they wanted."
Thai authorities have closed the beach
In June of the same year, the Thai government closed Maya Bay due to the devastating impact of mass tourism on the ecosystem. It remained closed for nearly four years before reopening in January.
But now there are rules: advance booking is mandatory. No more than 375 people are allowed at a time.
No more boats in the bay either. Instead, there's a purpose-built dock on the other side of the island to drop off passengers, who then take a short walk through the jungle to the crescent-shaped beach. Tourists can dip their toes in the water for that all-important selfie, but nothing more. A dozen rangers patrol the beach whistling offenders out of the water. They are serious too.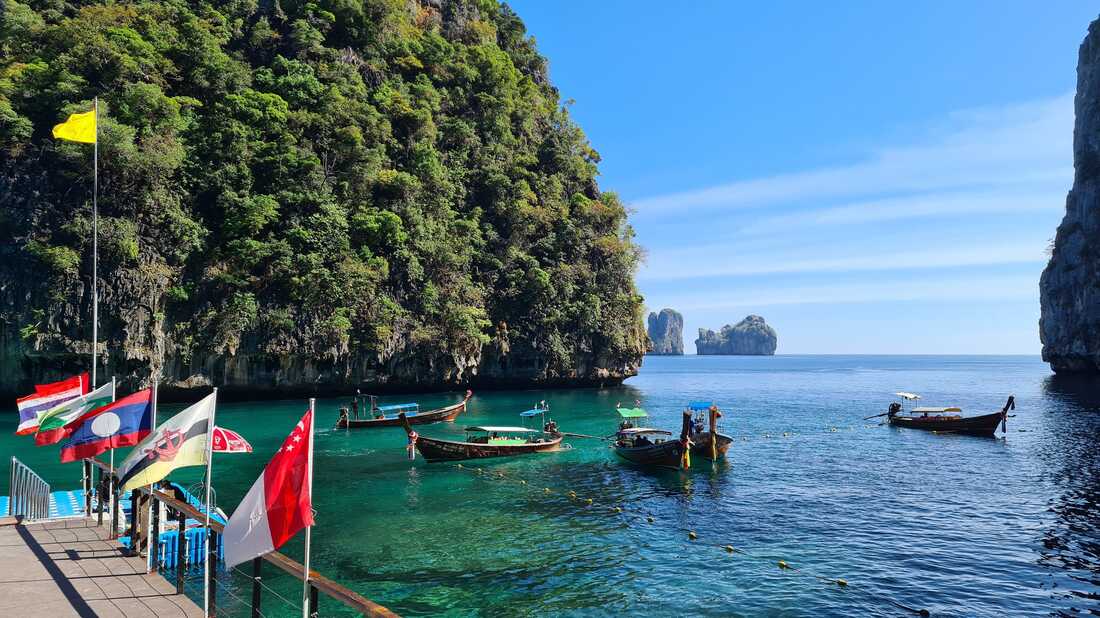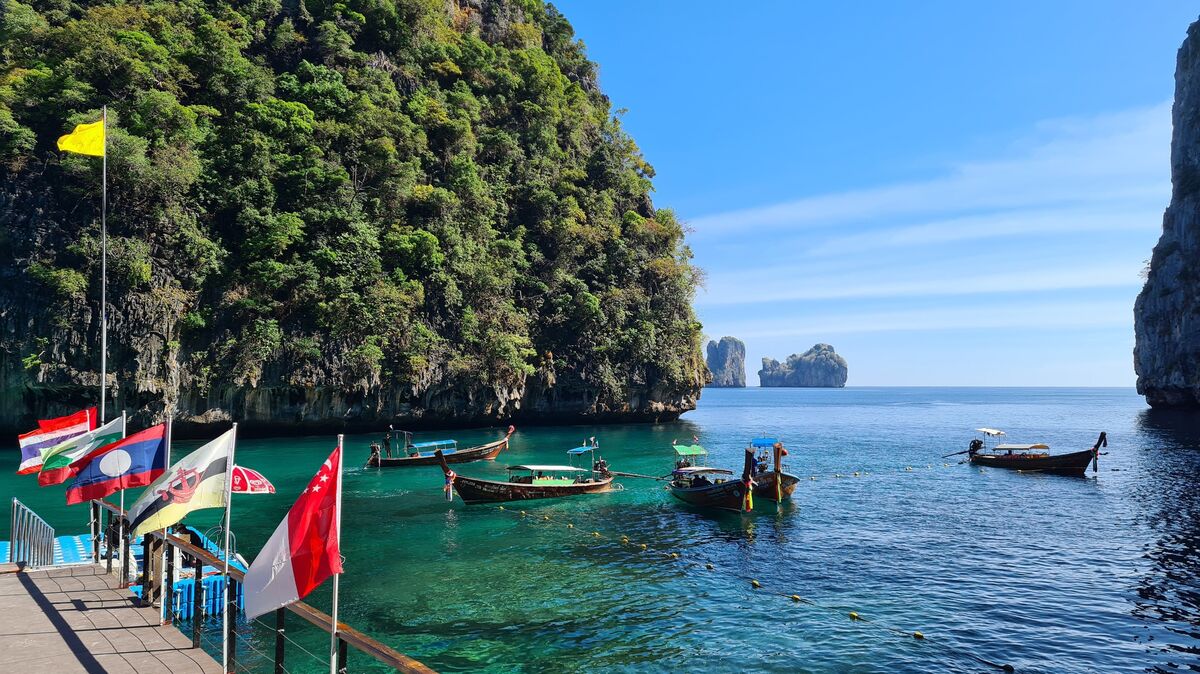 "Today we fined a French tourist 5,000 baht [$175] for swimming in the bay, says Suthep. One of the rangers warned him with his whistle, but when he came in a second time we had to fine him.
In the few weeks Maya Bay was reopened, Suthep only had to hand out half a dozen tickets, he says. Thai tour guide Amie Hemthanon says she is surprised and delighted with the response from her clients.
"I talked to them about what we should do, what we shouldn't do and luckily my clients are nice and do what I ask," she says. "For me, as long as people can follow these rules, everything will be fine."
Blacktip sharks are back
In the three and a half years since its closure, Maya Bay's transformation has been incredible, says Suthep. Even blacktip sharks breed here, he says.
"In 2018, before the shutdown, you couldn't even think of seeing a shark," he says. "You couldn't even see a three inch fish. Now on a good day you can see over 160 sharks. And when the tide goes out I can see all the new corals and crabs and shrimps. It makes me very proud."
The stunning landscapes and marine life are the reason tourists have come. But even some of them seem unprepared for what they find.
"I never imagined it was so beautiful," says Susanne Wiegratz, from Germany. "Beautiful. Wonderful. I really don't know, probably my English words are not enough for me to [say] this most beautiful place on Earth that I have ever seen."
A place that one of his traveling companions had to work very, very hard to reach.
University student Fenna Tobin tested positive for COVID-19 shortly after arriving in Thailand. She had to spend the next ten days of her vacation in quarantine. It's his second day.
The obvious question is: was it worth it?
"Yes," she said laughing. "Totally." It's so, so beautiful." She struggles to find the words in English, then sighs deeply. "I'm so calm now."
Thai tourist Wararat Phanit-Chakoon is from neighboring Hat Yai province.
"I waited until Maya Bay reopened to come here," she says. "I knew that if I had come before, I would not have been happy."
She says the water where she lives is beautiful too. But not like this. "The water is so beautiful, so green and clear."
"It makes me want to swim," she says, "but I understand why I can't. I know they're worried about the impact of sunscreen on the reef."
"I think they got it right," says Wiegratz, who works in the pharmaceutical industry but is a marine biologist by training.
"If you ask me, I would have kept it closed to tourists forever," she says. She worries about the black tips. "The little ones growing up here need to be protected. Otherwise we won't have any more sharks – and we won't have many more anyway."
Ranger chief Suthep Chaikao is also concerned. He hopes the government will continue to limit the number of visitors and not succumb to the temptation to allow more to help revive Thailand's struggling tourism industry. The pandemic saw Thailand close its borders to foreign tourists for nearly two years from March 2020.
The pandemic left some extra time to bounce back
But the extra time has turned out to be a blessing for Maya Bay, says marine biologist Thon Thamrongnawasawat of Kasetsart University in Bangkok. Thon led the effort to close the bay in 2018 to allow its ecosystem to recover. But he feared the original timeline was too short.
"I was very afraid that two years would not be enough for the coral to grow back for the eye to see. But we had four years, and [now] there are a lot of little corals growing," says Thon. "So now we have evidence to show others if we give mother nature a chance… she can come back. So four years is a lot more than two years."
He sees no reason why Maya Bay and its ecosystem cannot remain healthy and serve as a more sustainable tourism model for the Phi Phi Islands and other nearby destinations which welcomed nearly two million tourists a year before the pandemic .

npr
Not all news on the site expresses the point of view of the site, but we transmit this news automatically and translate it through programmatic technology on the site and not from a human editor.