China, Brazil deal a blow to U.S. dollar-fueled bullying – Reuters
Dropping the U.S. currency in trade will diminish Washington's ability to enforce its will
By Timur Fomenkopolitical analyst
China and Brazil have reached an agreement to trade bilaterally in their respective currencies, eliminating the US dollar as a middleman.
The agreement between the two BRICS countries, which have an annual trade of $150 billion, would likely have been signed in Beijing this week if Brazilian President Luiz Inacio Lula da Silva's planned visit had not been postponed due to illness. . Around the same time, China also completed its first-ever all-yuan liquefied natural gas swap with France's TotalEnergies.
Brazil and China's decision to continue dollarless trade is a huge geopolitical moment and a sign that countries are looking to move away from using US currency, in direct response to Washington's abuse of the world reserve currency for its own hegemonic purposes. . While the greenback will of course remain a leading force in global trade and economy, Americans' ability to use it as a tool to bully and crush other countries is diminishing.
dollar hegemony
Since the end of World War II, the United States dollar has been the world's reserve currency and a standard for international trade following the establishment of the Bretton Woods monetary management system by the United States and its allies in 1944. Global commodity prices are set in relation to the US dollar, while Washington has positioned itself as the nexus of the global financial system, where most capital is concentrated. Thus, banks borrow and lend in dollars, thus making the greenback the lifeblood of the intertwined global economy.
Having consolidated such great power over the global financial system, the United States was then able to use the dollar as an overt geopolitical weapon to impose its will on other countries, both directly and indirectly. This was done through actions or threats to cut off targeted individuals, entities and even countries at will. These measures are really effective, because being blacklisted from the US dollar can see a serious company lose everything, not just the US market. This can be so influential that third-party entities, including those not even based in the United States, may choose to avoid dealing with sanctioned entities due to the risks involved.
To be fair, such measures can serve laudable goals. For example, US sanctions can cut off funding for terrorist groups and fight organized crime, and therefore have a real security benefit. However, US sanctions in recent years have increasingly become a means of unilaterally attempting to impose US will on third countries, and with the intention of serving geopolitical ends. Washington became obsessed with sanctions and handed out thousands of them, often with the aim of isolating and completely impoverishing smaller countries, such as Syria, North Korea and Iran. Although the United States always claims that it does not sanction food or humanitarian aid deliveries to these countries, the sanctions are often so broad and sweeping that all legitimate means of doing business with the target country are shut down. .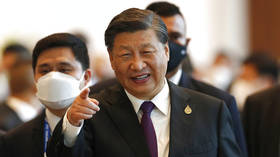 Currency multipolarity
It is not surprising, given Washington's abuse of industry-wide sanctions as a political weapon, that there is growing resistance from other countries who increasingly see the dollar as arbitrary. and unreliable. As a result, the political momentum for alternative payment systems is building, which is seen as a sign of defending national sovereignty in an uncertain world increasingly defined by geopolitical competition. For China, a gigantic trading nation that is the subject of growing hostility from the United States, this is a rising priority as it faces a potential scenario of war for control of the world. island of Taiwan, supported by the United States.
If such a war were to break out, the United States would likely react the same way it did with Russia and attempt to blacklist thousands of Chinese US dollar companies in an effort to cripple the economy. from the country. Therefore, the development of dollar-free monetary and financial systems outside of US control is a priority, especially with like-minded countries that have a vested interest in multipolarity (i.e. roughly no anyone outside of the collective West). These are therefore not only countries designated as "adversaries" by Washington. As Indonesian President Joko Widodo told the media: "Be very careful. We must remember the sanctions imposed by the United States on Russia. He encouraged the development of national payment methods, noting "Offshore settlements and reliance on foreign payment networks such as Visa or Mastercard in the United States will no longer be necessary."
In conclusion, the growing appeal of alternative currency and payment systems is a political reaction to the growing politicization and militarization of the US dollar as a means of controlling other countries. Additionally, the US Federal Reserve, through decisions such as interest rate hikes, can also make economic choices that benefit America at the expense of the rest of the world. As a result, many countries increasingly see the US dollar as an obstacle to their own economic sovereignty and development, and that is why countries like the BRICS are now taking action to de-dollarize their economies. Of course, the gravity of the dollar will always be strong, but the days of it being used to abuse and impoverish others are fading as multipolarity arrives.
The statements, views and opinions expressed in this column are solely those of the author and do not necessarily represent those of RT.

RT
Not all news on the site expresses the point of view of the site, but we transmit this news automatically and translate it through programmatic technology on the site and not from a human editor.