Brüno
Huberty & Breyne Gallery
This is called attraction-repulsion. Fascinated by America since adolescence, Bruno Thielleux, alias Brüno, 45, has devoted most of the last years of his work as a cartoonist to it, with series such as Tyler cross (Dargaud, 2013-2018) and one shots memorable, like The Man Who Killed Chris Kyle (Dargaud, 2020) or Lorna (Glénat, 2012). But, in his albums, the artist knows nothing about the dark side of the "Great America" so much vaunted by Donald Trump, his greed, his violence, his drugs, so many themes explored with talent by his screenwriter Fabien Nury, to whom he has a great bond. This duality is found in the line of the designer, while in opposition between blacks whose background we do not see and whites completely immaculate. The boards exhibited at the Parisian gallery of Belgians Alain Huberty and Marc Breyne, ideally located in an avenue Matignon in full renaissance, allow to admire this work while purified, with the style today recognizable among all. Thrifty of means – a white sheet and India ink, that's all – Brüno reached a graphic peak. C. Pi.
"America, America", Huberty & Breyne gallery, 36, avenue Matignon, Paris 8e. Monday to Saturday, 11 a.m. to 6 p.m., until February 27.
"Trick to do"
Galleria Continua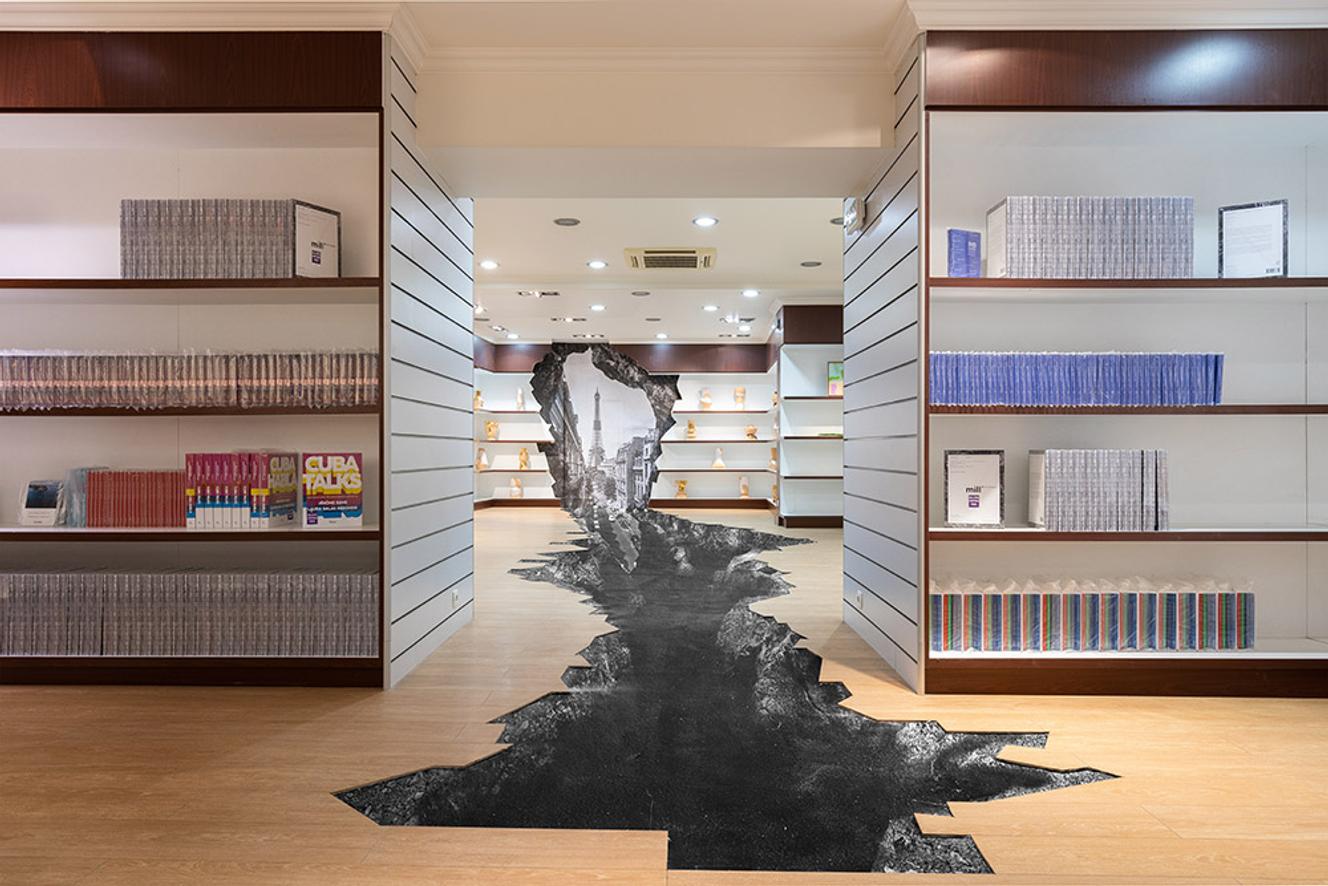 If there were a list of the most extravagant gallery, the Parisian space of the Galleria Continua – also established in San Gimignano, Beijing, Havana and Boissy-le-Châtel (Seine-et-Marne) – would obtain it without any discussion. First surprise: the gallery displays its windows widely at the corner of rue du Temple and rue Michel-le-Comte, which allows passers-by to benefit, for the opening, from an upside-down installation by Pascale Marthine Tayou playing with multicolored colonist statues: a very uninspiring game. Second: the ground floor is partly occupied by a grocery store, where products from the places where the gallery is located are sold: pasta and wines from Tuscany, teas from China, Brie de Coulommiers, etc. Third: it is also a bookstore, well stocked with catalogs and monographs of the artists of the house. Fourth: a maze of corridors and stairs leads to a string of rooms, previously occupied by a wholesaler of hides and skins. The redevelopment is minimal. Walls as is and grids of blue nets. In this labyrinth, there are other Tayou, a group of Kader Attia, Independence Disillusion, on the conquest of space seen through the stamps of African countries, and, over the stroll, Etel Adnan, Michelangelo Pistoletto, Anish Kapoor, Leandro Erlich and others. Optical effects by JR complete the walk. After the stupor, several reactions are possible: to be virtuously indignant about the association between art gallery and grocery store or, conversely, to have fun with it as a justified provocation; shopping for groceries or supplies of often remarkable works of art, which is more expensive; or just stroll for fun. Judging by the queues on Saturday afternoon, the success is certain and gives reason to Lorenzo Fiaschi, one of the directors of the gallery, who, walking in the Marais, read the announcement of a space to rent and called immediately. Ph. D.
You have 4.3% of this article left to read. The rest is for subscribers only.