News
Bronx daycare owner says she didn't know fentanyl was in closet after 1-year-old dies from suspected exposure
NYC daycare owner cares for dead 1-year-old boy after apparent exposure to opioids, she says she didn't know drugs were in the Bronx facility.
Grei Mendez, 36, and Carlisto Acevedo Brito, 41, were charged with murder with "depraved indifference," involuntary manslaughter, assault, endangering the welfare of a child and criminal possession of a controlled substance. The charges come after four children became ill, and one later died, from apparent exposure to fentanyl Friday at Divino Niño daycare.
Mendez's attorney, Andres Manual Aranda, said Monday, "My client didn't know (drugs) were there." She was the one who called the police. She called 911 and 311."
Authorities found a one-kilogram package containing a "white powdery substance" identified as fentanyl in a hallway closet at the daycare, the criminal complaint states.
Authorities also recovered two 1-kilo press machines from the hallway closet and another from the bedroom where Brito was staying, according to the complaint. New York Police Chief of Detectives Joseph Kenny said Friday that such devices are "commonly used by drug traffickers to package large quantities of drugs."
Brito, the cousin of Mendez's husband, had been renting a room at the daycare for two or three months, Aranda said.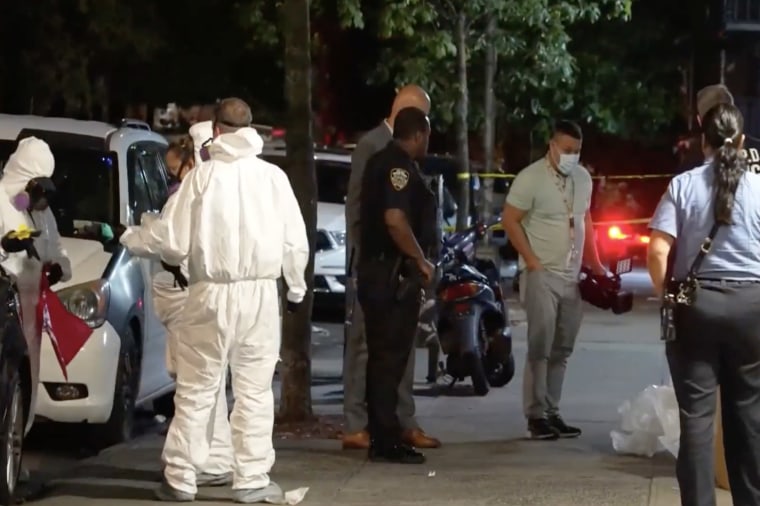 "My client feels bad about what happened. She feels really bad for the kids," Aranda said, noting that Mendez "never" noticed other children exhibiting symptoms of drug poisoning before.
A not guilty plea was entered for Mendez and Brito during their arraignment Sunday in Bronx Criminal Court, and both were ordered held without bail.
An attorney for Brito could not immediately be reached for comment Monday.
New York City Police said Friday that officers responded to a 911 call around 2:45 p.m. and found a 1-year-old boy, a 2-year-old boy and an 8-month-old girl "unconscious and unresponsive." . " inside the daycare.
All three children were given Narcan, the antidote for opioid overdoses.
The 1-year-old, Nicholas Dominici, was pronounced dead at a Montefiore medical center. His cause and circumstances of death are still under investigation.
The 2-year-old is in critical condition and the 8-month-old is in stable condition.
Police said a fourth child, a 2-year-old boy, was taken to BronxCare Health System by his mother after picking him up from daycare around 12:15 a.m. that day. The mother noticed he was acting "lethargic and unresponsive" once they got home. At the hospital, he was also given Narcan to save his life. He is in stable condition.
The criminal complaint said the three surviving children suffered from acute opioid intoxication.
He further revealed that a urine sample from the 8-month-old girl revealed the presence of fentanyl. Additional toxicology tests on biological samples from the other children have been conducted and are awaiting results, the complaint states.
Fentanyl is a synthetic opioid 50 to 100 times more potent than morphine, according to the Centers for Disease Control and Prevention.
Authorities have not said how the children came into contact with the drugs. A 2019 study published in the Journal of Pediatrics found that in cases of childhood opioid exposure, almost all cases involved children who ingested the substance orally, rather than touching or drinking it. inhale, the Associated Press reported.
The FDNY did not detect any carbon monoxide or other environmental toxins at the daycare and the daycare employees present did not experience any "symptoms of poisoning or exposure to environmental toxins," the complaint states.
The home daycare opened in January and passed two routine inspections to obtain its license. On September 9, he was the subject of a surprise inspection by the Ministry of Health and Mental Hygiene and no violations were found, the commissioner of the Ministry of Health and Mental Hygiene said on Friday. Mental Hygiene of New York, Ashwin Vasan.
The New York State Office of Children and Family Services (OCFS) said in a statement: "OCFS' top priority is the health and safety of all children in child care programs. child care and we are deeply saddened by this tragedy. Under the leadership of Governor Hochul, we are investigating this horrific incident and cannot comment further on an active investigation by agencies and law enforcement.
The New York City Department of Health and Mental Hygiene conducts inspections of family child care centers and school-aged child care programs.
These assessments include background checks of care providers, health and safety inspections of the space, and operators must disclose whether other people are regularly present on the premises. It is unclear whether during the Sept. 9 audit it was revealed that Brito was living at the daycare.
NBC News has reached out to the Department of Health and Mental Hygiene for comment.
Mendez is due back in court on September 21 and Brito on September 22.

newsg2