Biden to call McCarthy to discuss debt ceiling after G7
President Joe Biden has instructed his team to set up a call with President Kevin McCarthy on Sunday morning to discuss debt ceiling negotiations "following his G7 meetings," a senior government official said Saturday night. White House.
The official did not specify exactly what time the call would take place or where Biden would call from, as he could be calling from Hiroshima or even Air Force One.
Biden "received an update from his team last night and this morning on the status of the negotiations," the White House official said.
No meeting was scheduled for Saturday between White House and GOP negotiators, McCarthy had previously confirmed.
McCarthy told reporters Saturday that negotiations were on hold until Biden returned from his overseas trip as he left the Capitol tonight.
"Well, the White House didn't come here and unfortunately the White House backed down," McCarthy said Saturday.
"I think Bernie Sanders and the socialist wing of their party have had a real effect on the president, especially since he's out of the country. I don't think we can move forward until the president can return to the country," added the speaker.
White House press secretary Karine Jean-Pierre responded to McCarthy and said McCarthy's team "put an offer on the table that was a big step backward and contained a set of partisan demands. extremes".
"Let's be clear: the president's team is ready to meet at any time. And, let's be serious about what can happen in a bipartisan way, get to the president's office and reduce the deficit," Jean-Pierre said. in a press release.
The latest White House proposal would have limited spending on military and some domestic programs, sources familiar with ABC News told.
Republicans rejected it – calling for increased defense spending which, in turn, would force deeper domestic spending cuts to secure an eventual deal, sources said.
The White House proposal would have maintained spending levels for education, housing assistance and scientific research.
Debt limit negotiations between GOP negotiators and the White House ended Friday night with no progress after a meeting lasting about an hour and a half.
"Under the Speaker of the House, we re-engaged, had a very, very candid discussion, talking about where we are, talking about where things need to be, what is reasonable and acceptable," said Rep. Garret Graves of Louisiana, who is House Speaker Kevin McCarthy's chief negotiator.
Graves said "it's undefined right now" when asked if talks should resume Friday night or Saturday.
"We had a frank discussion," Graves added, saying "it wasn't a negotiation tonight. It was a frank discussion about realistic numbers, a realistic way forward and something that really changes the trajectory. of this country's spending and debt problem".
North Carolina Rep. Patrick McHenry said "no" when asked if he was confident negotiators could reach a framework by the end of this weekend.
Speaker McCarthy said a deal needed to be reached by the end of the weekend so that the House and Senate would have enough time to pass it before the June 1 deadline.
There had been hope that progress would be made after a day of stalled negotiations when McCarthy said on Friday evening that negotiators would be "back in the room tonight" to continue working on a solution to the looming crisis. of the debt ceiling.
McCarthy told Fox Business that negotiators "took a break" on Friday afternoon due to "frustration" with the White House's negotiating stance.
A key sticking point in the negotiations is the spending cap, two sources familiar with the talks told ABC News senior congressional correspondent Rachel Scott.
Despite the hiccup, a White House spokesman insisted on Friday that a deal was still "possible."
"A responsible, bipartisan budget deal remains possible if both sides negotiate in good faith and recognize that neither side will get everything it wants," the spokesperson said. "There are real differences between the parties on budget issues and the talks will be difficult. The President's team is working hard to find a reasonable bipartisan solution that can pass the House and Senate."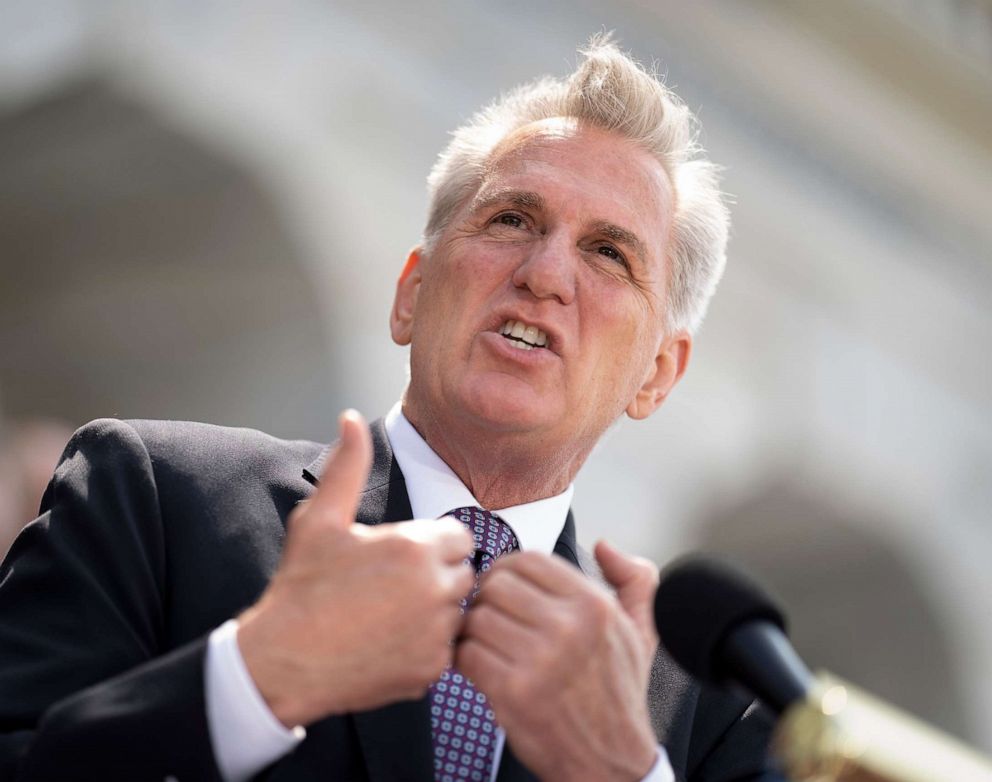 The apparent breakdown comes after the White House late Thursday night touted "steady progress" following a phone call between President Biden, Office of Management and Budget Director Shalanda Young and the President's adviser Steve Richetti.
"The President's team informed him that steady progress is being made. The President asked his team to continue pushing for a bipartisan agreement and made clear the need to protect essential programs for American workers and economic progress over the past two years as negotiations move into advanced stages," the White House tweeted.
"He remains confident that Congress will take the necessary steps to avoid default," the White House added.
McCarthy, too, seemed more optimistic on Thursday than at any other point in the process, as he said they were in a "much better" place than a week ago.
But on Friday he said there had to be "movement in the White House." He said he had not spoken to Biden, who is meeting with G-7 leaders abroad.
Timing remains critical as lawmakers set a fast approaching deadline to lift or suspend the debt ceiling or risk a default. McCarthy said Thursday he believed an agreement in principle would need to be reached by this weekend for a bill to be approved by the House and Senate by June 1.
ABC News' Ben Gittleson and Elizabeth Schulze contributed to this report.
ABC News
Not all news on the site expresses the point of view of the site, but we transmit this news automatically and translate it through programmatic technology on the site and not from a human editor.