Antonio Conte responds to 'crazy' expectations around Tottenham after Aston Villa defeat and hints he needs more support in the transfer market | Soccer News
Antonio Conte has lived up to the 'crazy' expectations around his Tottenham side after their 2-0 loss to Aston Villa and says the club need to sign two players worth £50-70m each season if they want to become serious title contenders.
Spurs suffered their fourth defeat in seven Premier League games on a gloomy New Year's Day for their fans at the Tottenham Hotspur Stadium, conceding more than one goal in a seventh successive game for the first time since 1988 .
The result leaves Tottenham fifth in the table, 13 points behind leaders and local rivals Arsenal, who are one game less.
Conte came out fighting afterwards, defending Spurs' performance, despite only managing six shots in 90 minutes, and hinting he needed more support in the transfer market s they had to fight for the top honours.
"I keep repeating that last season we performed a miracle," he said of their fourth-place finish last season in his press conference.
"It happened, why? Because we only played one competition and we played with 12 or 13 players who were injury-free in the last 15 games.
"We played with the best players in every game because we only played the league. Don't forget that with three games to go Arsenal were four points behind us – and we finished 20 points from Manchester City.
"We did a miracle, but I knew what the situation was and then I was very clear with the club. [about what was needed] become title contenders."
FREE TO WATCH: Highlights from Aston Villa's win over Tottenham in the Premier League.

He continued: "I vividly remember the summer people were talking about Tottenham as title contenders, but in my experience it was a bit crazy to see that.
"To become title contenders, to become a team ready to fight to win something, you have to have solid foundations, that is to say, to have 14 or 15 solid players, with quality, and the others young players to develop.
"Every season you can add two players, but two players have a price tag of £50m, £60m, £70m. That way it means you bring in important players who can improve the quality and level of your team.
"But it's a process, guys. It's a process."
Spurs completed the permanent signings of Richarlison, Yves Bissouma, Cristian Romero, Ivan Perisic, Clement Lenglet, Djed Spence and Fraser Forster this summer for a combined cost of £172million, but Conte insisted he was also trying to create a winning culture at the club. .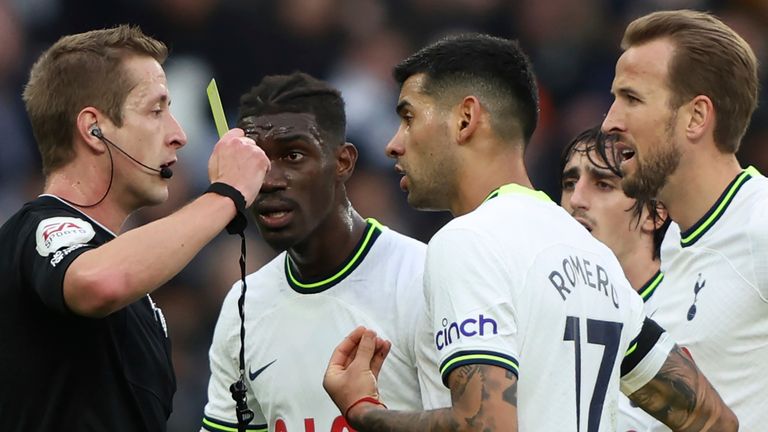 "People who think you come in and you win," he said. "It can happen for a team that is used to winning in the past. But if you're not used to it, it means you have to create the situation.
"For that reason it takes time, patience. I understand that the fans are disappointed because they can say that they had patience for a long time. I understand. But the situation is this: if you want the truth, I will tell you the truth."
Asked if he thinks Spurs fans have unrealistic expectations of their team, Conte added: "I don't have to think about what the expectations are. I know what the reality is.
"I am the coach, I live the club on a daily basis, I know the situation, I know the club's vision. The club knows my thinking about the situation very well.
"The situation was very clear. I continue to work to improve the club, to create a solid base and then to develop.
"At the start of the season I was very, very clear with the club. I said, 'Okay, we can be competitive to win, but try to keep improving in a way that we can. To do.
"Because, also, you have to know that there are clubs which can invest 200 million pounds, 300 million pounds and then other clubs which have different [policies]. You must respect others [policies].
"But it has to be very clear to people, because otherwise we're creating an expectation and it's not positive for the environment to create expectations that right now aren't realistic."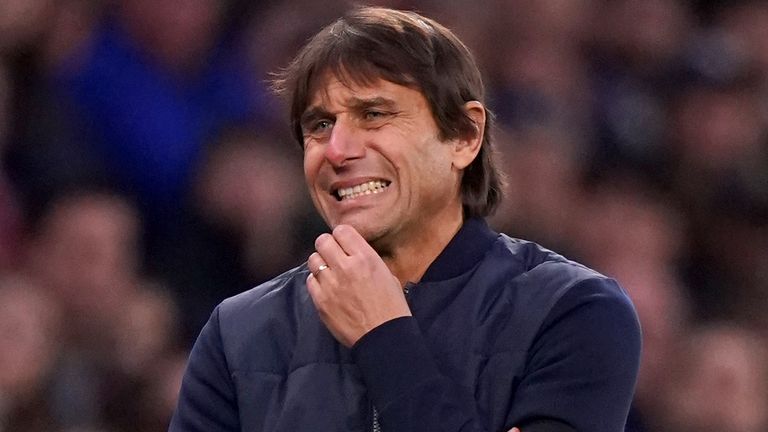 Conte added that Spurs now need to get back into the transfer market and 'buy hard' so he can continue the development of the team and prevent their further collapse.
"I've been repeating it since the start of the season, but I've been waiting for this moment," he added. "Now you have to buy hard, hard. Because the situation is that we are there, but in this championship, you can quickly go wrong.
"I also spoke to my players and said, the expectation is to grow, to fight, because from start to finish the road is not that long, you can slip quickly if you don't are unprepared and humble.
"If you ask me if I'm scared, I'm not scared. I believe in my job, I believe in my players.
"But don't ask me about things I can't promise you because it's only to create illusions and give dreams. But for now, you have to be realistic.
"Because if you're realistic and you know the situation, you face the moment in the right way."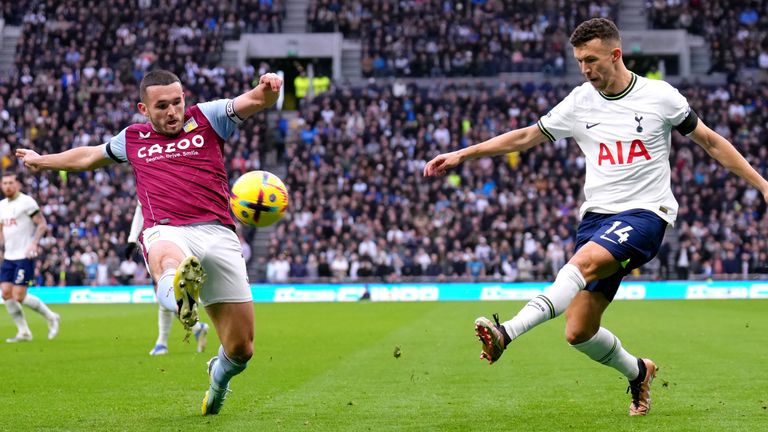 Defending his team's performance against Villa, despite the result, Conte said: "As for the performance, I'm not disappointed because the performance was a good performance.
"From start to finish I saw the right commitment, the intensity and the desire to win the three points and to win duels and to run.
"If you ask me, football is strange. In the first half we dominated the game, although we didn't create chances to score, because we found a team that defended really, really in depth, with 11 players.
"Then in the second half we started the same way and then it happened that we conceded another goal. We're not so lucky with the goals we concede in that period.
"That goal changed the situation, the feeling and the confidence of the players. They didn't think they deserved to be 1-0 down after a big effort in the first half."
Conte's message to Spurs fans: I never said we could compete, we're building
Talk to sky sportsConte said: "The message is always the same [to the fans]: I never talked about our team that this season we could be competitive, fight to win.
"From the start of the season I say we create, we build, we try to build a strong base because if you want to become a title contender and you want to try to win something during the season, you have to have solid foundations.
"Strong foundations mean you have to have your team, your team, 13, 14 strong players, and then every year to put in one, two important players to improve the quality. And for that reason, that means investing £60m, £70m, £80m This way you improve the quality Otherwise if you go every season so you don't spend…
"Right now we need to create that solid base. We need to find 13, 14 players. We try to create that and then start every season to add important players, not normal players. Normal players don't do the difference. We need players who make the difference. Otherwise, you have to go and develop a young player, then wait, you have to have patience. The situation at the moment is as follows.
"I always tell the truth in my life. I don't want to create any illusion. The club knows very well what I think and the club is 100%, they think the same. Maybe that's good to send that message out through the media because maybe someone might think we can claim the title."

Sky Sports
Not all news on the site expresses the point of view of the site, but we transmit this news automatically and translate it through programmatic technology on the site and not from a human editor.