5g is here in India, but how much are you going to pay for it?
mini
5G promises to deliver 100x faster data speeds than 4G, now that India is gearing up for a 5G rollout here comes the question – how much the world is paying for 5G and with the great connectivity of the 5G network , will there be a big financial liability for India users? Here's what we know from worldwide experience and expert estimates.
As telecom companies gear up for the rollout of 5G services in India, there are a few questions on everyone's mind: Will data plans get expensive? Or will Indians pay the same rate for 5G on existing plans, but recharge more frequently because 5G uses data faster?
Bharti Airtel recently announced that it will start rolling out 5G services this month. Reliance Jio also unveiled its 5G rollout plans on Saturday. This comes after the conclusion of the 5G spectrum sale on August 1. According to Telecom Minister Ashwini Vasihnaw, the auction resulted in bids worth Rs 1.50 173 crore for 71% of the total spectrum.
5G promises to deliver data speeds 100 times faster than 4G and provides throughput (a measure of how many units of information a system can process in a given amount of time) up to 10 gigabytes per second. It also promises to reduce latency (the wait before data transfer begins) to less than 1 millisecond (ms) from the current ~50ms (in a 4G network).
Globally, telecom companies in many countries have rolled out 5G networks. As of June 2022, more than 70 countries had 5G networks, up from just 38 at the start of 2020, according to a report by Global Systems for Mobile Communications Associations.
This year, 5G is expected to have 1 billion users worldwide.
With this comes the question – how much is the world paying for 5G and with the great connectivity of the 5G network, will there be a great financial liability for Indian users?
How much is the world paying for 5G?
According to a 2019 Global Systems for Mobile Communications Associations (GSMA) report, South Korean carrier SKT provides 1GB of 4G data for almost $7 and charges $0.32 for 5G. Another carrier, LGUPLUS, provides 5G data at $5 per GB, while 4G data is priced at almost $20 per GB.
Verizon, the largest telecommunications carrier in the United States, currently only has unlimited plans. The average monthly rate for 4G data is $40, while for 5G it is $58. In Switzerland, telecom operator Sunrise offers 1GB of limited data for 4G at $35 while 5G data is priced at $55.
In the UK, telecom operator EE is offering 1GB of limited 5G data at $1.15, while 4G data is offered at around $3.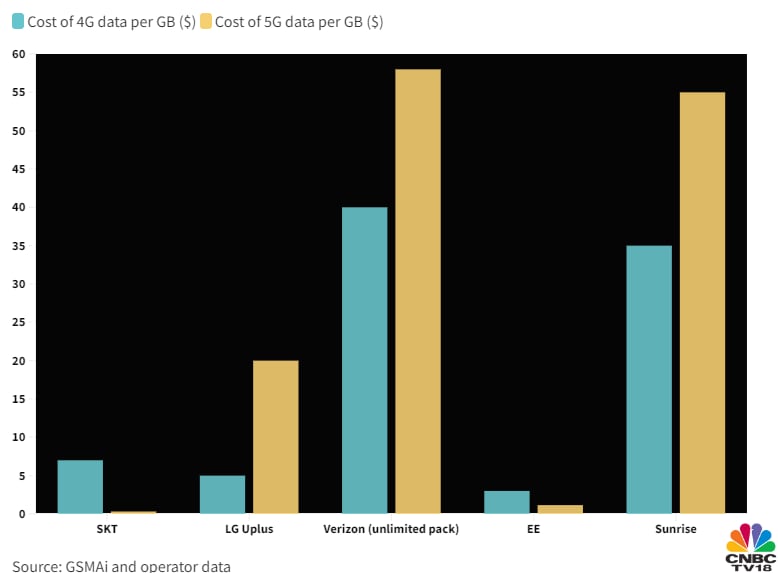 The GSMA report points out that the average cost for 1GB of data on 4G is $17 compared to $13 on a 5G network, but 5G's faster speed means more data is used up faster, so users buy more data packs, spend more money per month despite lower tariffs.
Experts point out that since 5G is a new technology, telecom companies initially offered 5G at lower rates and offered add-ons such as music subscriptions to attract users. For example, in a few countries in Europe, telecom operators provide 5G services at no additional cost compared to equivalent 4G packages. In the UK, US and China there is a premium on 5G plans and they come with add-ons.
Here is what India can expect from 5G based on global experience:
"The goal is to give consumers time to experience 5G with moderate access fees and thereby reduce barriers to 5G entry. In some markets (UK), telcos are offering more data tiers to facilitate migration to 5G services without creating many price disruptions. They offer a wide range of 5G service plans in different data buckets to ensure they are affordable," said Sunil David, Co-Chair of the Digital Communications Task Force, IET Future Tech Panel.
How much will Indians have to pay for 5G?
Given this overall analysis, we believe that for Indians, the rollout of 5G can happen in two ways:
First: Telcos charging a premium for 5G services. In this scenario, David expects a 20-30% price increase for Indian consumers wishing to migrate to 5G services.
Nomura Global Markets Research estimates telecom service providers would need a modest 4% price increase on their overall subscriber base or a 30% premium over 1.5GB/day 4G plans , after spectrum acquisition. The last tariff increase of 20 to 25% by the three main telecommunications operators took place last November-December.
Second: The second scenario can be to revert to the strategy when 4G was rolled out in India. Telcos had offered a standard pack for 3G and 4G, and users were allowed to switch between the two through their smartphones' network settings. The strategy worked well when users switched to 4G. According to government data released in parliament in April, 98% of India's population is covered by 4G. So, although 3G and 4G were charged at similar rates, 4G users had to buy more data or opt for more expensive unlimited packs and telecom operators also gradually increased the rates.
"In India, the median 4G download speed is 14 Mbps according to recent Speedtest reports, compared to a global average of 30 Mbps. Assuming most 5G services are delivered to consumers using midband spectrum, average download speeds are expected to range between 50 Mbps and 300 Mbps depending on how spectrum is managed by telecom operators. Given this situation, one would expect that a 1 GB of 5G data would be used up between 5 and 10 times faster compared to 4G services. David added.
Are Indians ready to switch to 5G?
According to a recent survey by Ookla, 89% of Indian smartphone users are ready to upgrade to 5G. The survey covered a sample of 2,000 smartphone users over the age of 18 in urban and rural areas. Interestingly, according to the same survey, nearly half of respondents (48%) plan to switch to 5G as soon as the service becomes available in their area and would consider switching phone companies if necessary. Less than 2% of respondents do not want to switch to 5G.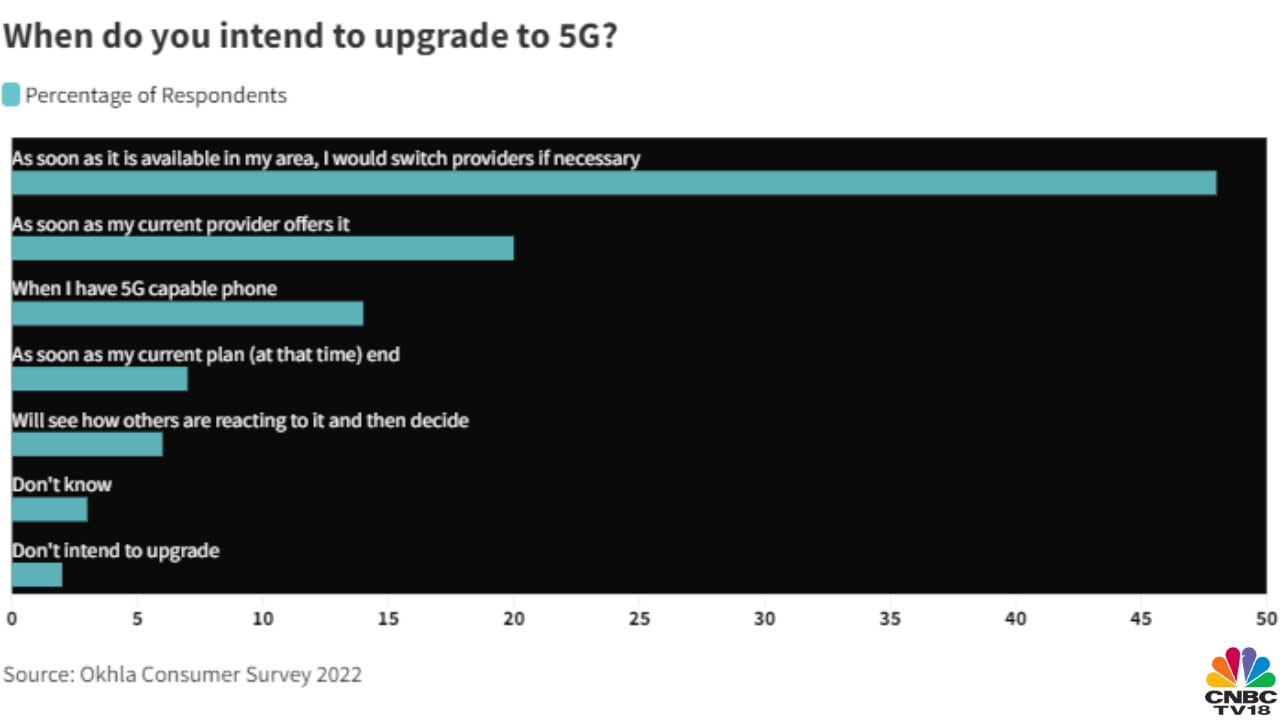 "Ideally I would look at what speed and bandwidth comes with 5G in my area and what the response of others is and then I would switch to the network because I also expect services like video streaming, games and even the managing work from home with 5G to become easier and faster," said Rishabh Singh, 24, software engineer.
Experts also believe telcos will try to target customers with digital content to showcase differentiation. Premium plans can be launched for high ARPU customers (Rs 1,000 per month and above) for those willing to pay a premium for 5G service that offers faster speeds and superior content.
"Customers would be willing to pay a premium of 25-50% to enjoy faster data speeds and get a better user experience when accessing content that requires high bandwidth and low latency. The premium they will be willing to pay also depends on the differentiation in terms of digital content that Telcos offer," added David.
From all of this, we can deduce that Indians are ready for 5G, whether by paying more for premium plans or by using more data at cheaper rates and faster speeds.
Note to readers
Disclaimer: Network18, the parent company of CNBCTV18.com, is controlled by Independent Media Trust, of which Reliance Industries is the sole beneficiary.

cnbctv18-forexlive-benzinga
Not all news on the site expresses the point of view of the site, but we transmit this news automatically and translate it through programmatic technology on the site and not from a human editor.